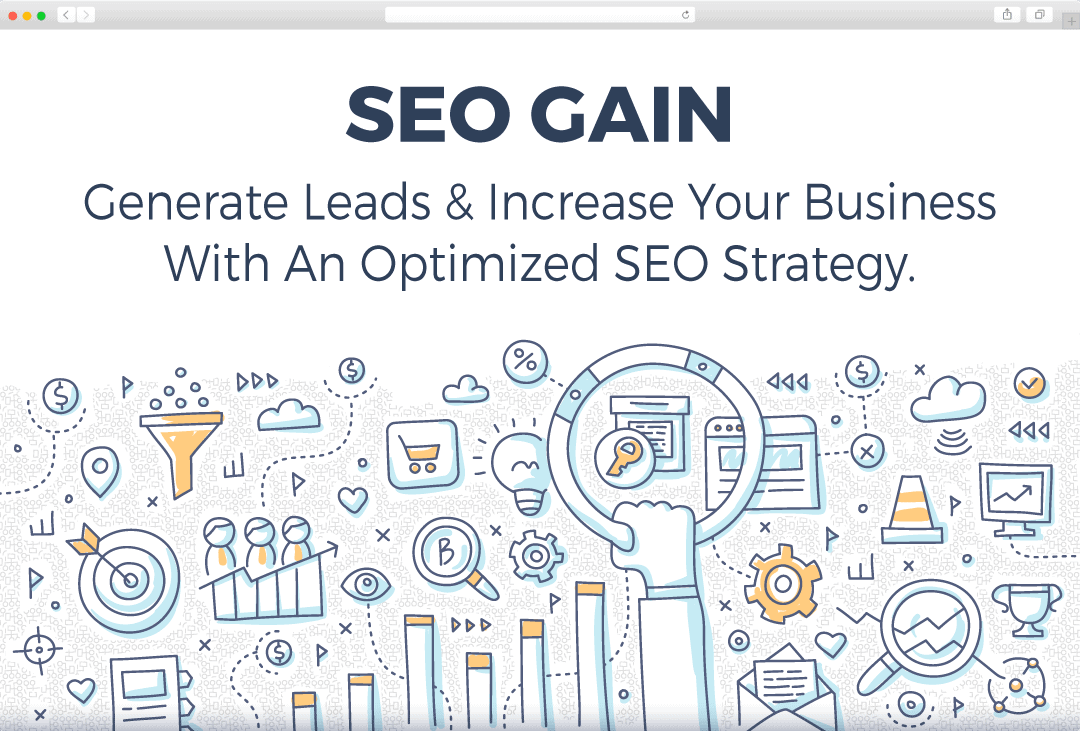 Uniquely You
SEO Is Not, One Size Fits All
A website that is optimized for better search results contains unique page content, targeted keywords, obvious trust factors, and multiple conversion opportunities. Tailoring to your specific needs, SEO Gain compliments and supports your business goals and the growth of your business.
SEO Optimization & How Our SEO Gain Program Work
It's important to understand that any SEO endeavor is a marathon and not a sprint. SEO is a long game that can take months to effectively reach a goal.
Honestly, SEO just takes time. Every project will have some quick wins that can happen. If there are any quick wins to be had, we will discover them and include them into your custom SEO strategy.
It is our professional recommendation to collect, at a minimum, three months of analytics and measurement data before making any adjustments to your SEO strategy. SEO campaigns should carry a commitment of 6-9 months to see 20-40% more leads YOY. Patience is key.
What does an SEO Strategy look like?
Developing an SEO strategy is as simple as documenting and understanding your goals so that we can analyze your current SEO status and begin planning your next steps.
Key points of success for SEO:
Access to Data:
Certain action items like fixing HTML page structure issues or analyzing your tracking data require admin level access to your website or other third-party accounts like Goole Search Console & Google Analytics. Without admin level access we will not be able to perform our services.
Keyword Strategy:
The right keywords for your business that target the ideal level of volume and achievability based upon your goals.
Data Tracking & Analysis:
Using your available tracking data we will measure the appropriate data points to help evaluate performance metrics that need to be measured.
Competitive Research:
We will review your top competitors to see what keywords they rank for and identify the best ongoing SEO strategies.
Website Content:
Content that matches your business strategy and services will improve your search rankings and results. Professional copywriting and editing services are available for your website. 
Reporting & Adjustments:
If adjustments are necessary and/or recommended and these change the scope of the work outlined in the Proposal of Service, we may require a new proposal with additional charges.
Local SEO Strategy that dominates
Custom SEO Strategy

A plan built specifically for your business and your SEO goals.

Technical SEO

Analyze and improve the HTML structure of your website.

Onpage SEO

Evaluate existing content and make recommendations for improvement.

Google My Business

Optimization of your current GMB listing. If you have multiple GMB listings, we will rotate the optimization.*

Conversion Optimization

Ensure your website is setup for success converting visitors into leads.

Fresh Monthly Content

Feed search engines with fresh content and build your authority and results.
SEO can be overweleming and seem to be very complicated. You've been told so many different things and have no idea what was actually done on your website.
Our SEO Gain program aims to educate business owners with all of the information around their SEO campaign. We provide project dashboards and regular check-ins to provide the transparency needed for peace of mind.
Your entire SEO campaign is strategized and executed by our teams so you can focus on more important things. Our SEO Gain program is customized to work towards your business goals and lead generation.
Have high expectations? So do we. When you work with us you get a dedicated SEO strategy that is custom to your business and your goals for SEO, digital marketing, and in-bound marketing.
There are many ranking factors that makeup a solid SEO strategy. Of those factors, there are four that are foundational. Each foundational service, listed below, are included with our SEO Gain program no matter your budget.
Content is a key factor when it comes to a solid SEO strategy that will out perform competitors and rank well. Do your landing and service pages have enough content? We analyze your current content, pages, and make recommendations as part of your custom SEO strategy.
Conversion Rate Optimization (CRO)
Analyzing CRO consists of viewing behavior flow in order to test page design and important design elements like CTAs (call-to-action) and button and link placement in order to increase more leads. Our extensive design experience help us determine the right adjustments to improve your CRO.
Google Business Listing Optimization
An optimized GMB listing should position your business to be highly recommended and placed in the map pack (the top 3 listings). Your GMB listing is similar to a piece of organic real estate, able to generate leads and pull traffic to your website.
A healthy, SEO optimized website has their technical SEO dialed in. Items like site architecture, schema markup, title tags, and meta descriptions to name a few. In particular, title tags and meta descriptions are a primary area of focus for our team.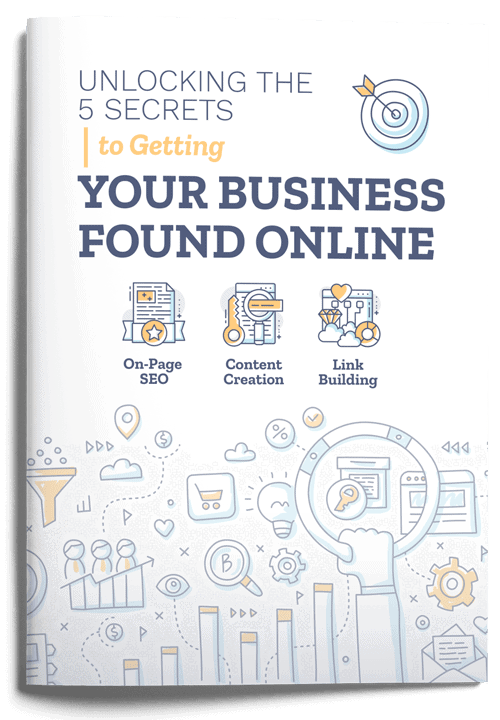 Unlocking The 5 Secrets To Getting Your Website Found Online
Download our FREE resource – Unlocking The 5 Secrets To Getting Your Website Found Online.
Successful SEO Is An Investment
Join Our SEO Gain Monthly Program Today
SEO Gain gives you a customized SEO plan, developing a strategy that make sense for you and the success of your business. Our pricing is industry and location based.
Contact us for a free quote to build your SEO Success.